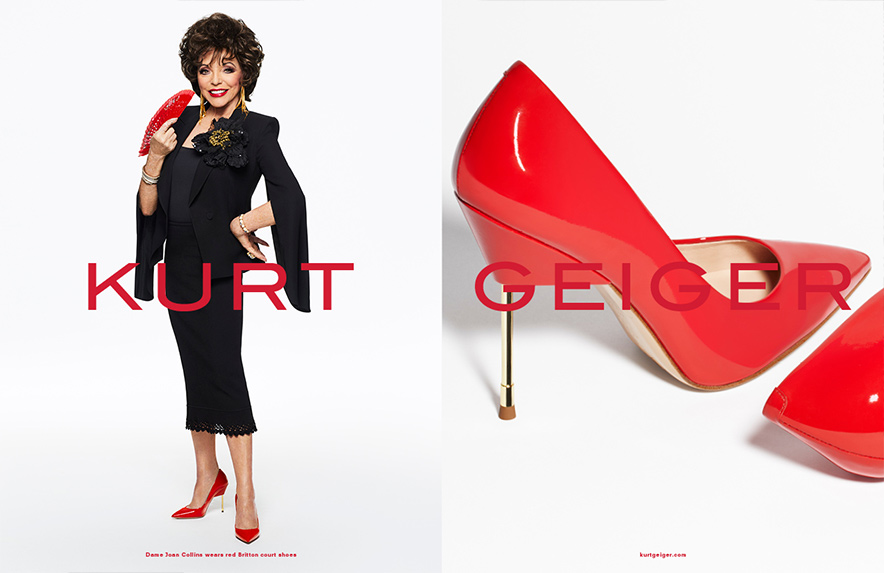 An exclusive insight from Chief Creative Officer Rebecca Farrar-Hockley about the making of Kurt Geiger's brand new advertising campaign featuring a galaxy of diverse talent.
9am, London, at the peak of British summertime. A tussle of gawping tourists, bumper to bumper cars, weaving cycle couriers and the swirl of dust and lint kicked up from a city in desperate need of a giant iced lolly. Almost every street looks like that traffic-stopping highway scene at the start of La La Land - just with more cursing and fewer choreographed dance routines. Inside an all-white, hanger-sized photographic studio in North London, the already straining air-con is keeping June temperatures just-below-unacceptable, while Rebecca Farrar-Hockley, Chief Creative Officer of Kurt Geiger, is patiently waiting for her chosen talent - set to appear in the brand's new advertising campaign - to arrive for their close up.

It's a crucial day, one that is set to steer the shoe and accessory brand on a fresh innovative path, yet if anyone on the crew is nervous they don't show it. Only the occasional vape cloud is indicative of any jitters. "We're a tight team," explains Farrar-Hockley, who started her career in Selfridges, working her way up from unboxing fresh stock on the shop floor to being charged with managing the entire shoe and accessory side of the business. "We just don't do tense shoots here. We put on the music, get a good vibe going." Alongside her is the savvy Swedish creative director Erik Torstensson, co-founder of game-changing creative agency Wednesday, today taking the photographs, and stylist Sarah Richardson, both of whom have been a vital part of Farrar-Hockley's ambitious vision right from the start.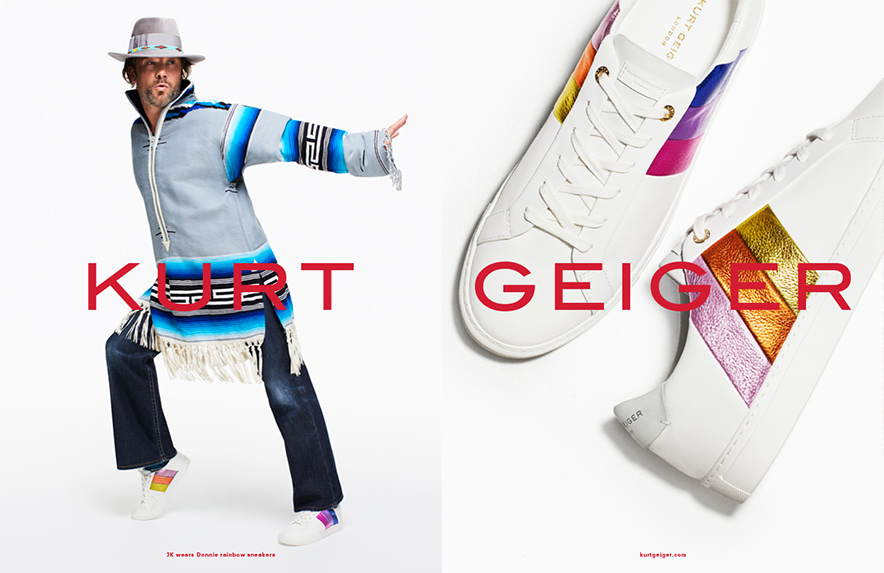 So, what to expect? Or, more to the point who to expect? Be assured, the breadth of talent making their own individual paths across town to be here represents almost every strand of British creative flair, an eclectic mix of body shapes, ages, skin tones and unique personal style. There's the superstar supermodel Alek Wek, the beloved DJ Nick Grimshaw, the rockistocrat Alice Dellal and her dog, who by the end of the session will have gone through every bag to find a lone sandwich. Throw in the musical maverick that is Jamiroquai, the up and coming British artist Christabel MacGreevy, plus next gen fashion faces Reece King and Molly Smith. If that wasn't enough not one but two Dames will walk with grace and professionalism through the studio doors today: the fashion legend Dame Zandra Rhodes and the iconic Dame Joan Collins. Your run of the mill fashion campaign, this ain't.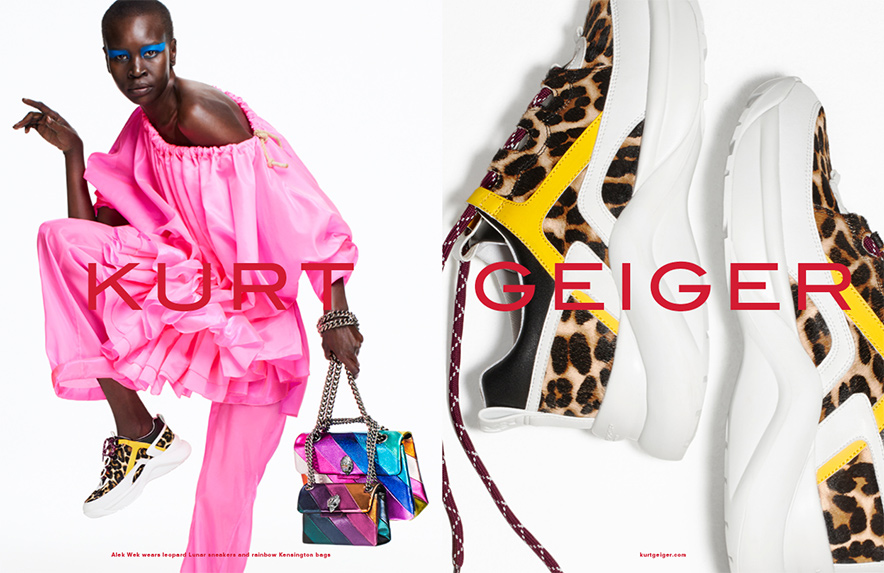 "I'm glad it doesn't look like any other campaign," explains Farrar-Hockley passionately a month after that eventful day, "because that's precisely what we set out to do. I think the idea of shooting one pretty skinny model surrounded by product is dated and not representative of the diversity of the Kurt Geiger customer. It would almost be irresponsible to do that. The way many brands work nowadays their advertising doesn't reflect modern life. There is nothing wrong with fantasy and aspiration, of course, but you need, I believe, a real connection to the customer nowadays. You need an authenticity and I wanted to get a cast of characters that brings out a sense of personal creativity and individualism. These are people who have incredibly strong identities and are good at expressing themselves. Fashion for me is about using the shoe or handbag to draw out your own style, rather than pretending to be someone perhaps you're not. I don't want it to feel like a costume, or dress up, it should be more natural than that. And so showing such diversity was really key."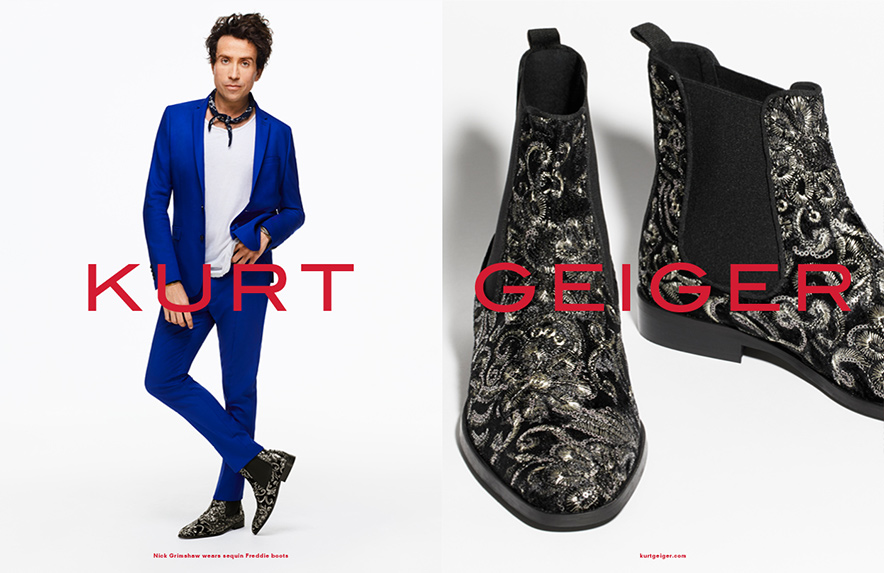 Erik Torstensson, someone who has worked with many of the biggest fashion brands in the world, also wanted to ensure the images started a conversation with the customer, rather than simply dictating to them from a place of superiority. "We made the photographic space like a blank canvas, all white background, no frills," he adds. "It was all about them being them, so rather than a transformation it was trying to highlight those aspects that makes them so unique. It felt very natural, actually, partly because you're not trying to shoe-horn someone into a skirt, or pair of trousers or shoes that don't suit them. I have been on these sets a lot and this felt really refreshing and very modern."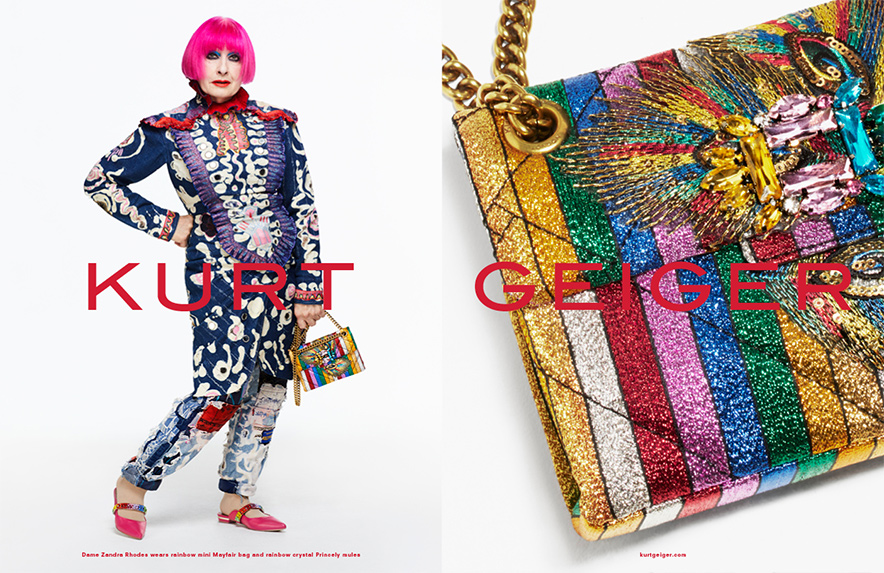 For a brand that is all about celebrating the individual, it seems the new Kurt Geiger campaign aims to strengthen that bond between customer and product. For the Creative Director it's about an open dialogue: "You know, I spend a great deal of time watching our customers," admits Farrar-Hockley. "I sit outside our stores, I get letters and photos all the time and twice a year I tour the UK, just observing. And our sense of personal freedom, of celebrating that thing you have which is different is so British, and so true. This campaign is for those who want to stand out – whether at a wedding, the school run or just having a drink with a friend after work. After all what feels better than looking good by showing your true colours?"
Listen to our campaign playlist below:
SHOP AW18 NEW ARRIVALS